Seymour Court Reporting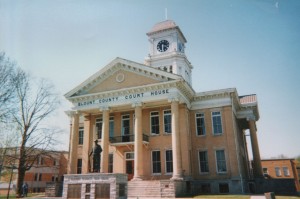 When engineers completed the construction of Knoxville, Sevierville and Eastern Railroads on December 18th, 1909, the small town of Seymour, Tennessee was named after the line chief of construction, Charles Seymour. From its humble beginnings in the early eighteen-hundreds, the Seymour has grown from Cherokee battlegrounds to a small town of about 3,000 residents.
Should any of these residents stand trial, they would likely be represented by attorneys who choose the WattsBoyd court reporting agency. We have nearly 30 years in the court reporting industry and we???re the most trusted agency in the Eastern Tennessee Region.
We???ve remained for successful for so many years because of our firm believe in old-fashioned customer service values, combined with state of the art court reporting technology. Our clients will never have to sacrifice quality for respect, because we give both. This practice has led to many long term bonds with law firms across the state.
Our agency supports you through every facet of the court room process. We assist with litigations, arbitrations, hearings, depositions and meetings. Our wide variety of services includes ASCII, real time reports, condensed transcripts, e-transcripts, word indexing, videographers and compact disc copies of your exhibits.
To accommodate the hectic, unpredictable timetables often faced by lawyers, we do whatever we can to save you time. Your transcripts are provided via email on the same day, we can respond to your requests on very short notice. All of our services can be expedited, if necessary. We know your time is precious, so we refuse to waste it.
So that you never have to wait for regular operating hours, we allow twenty four hour scheduling online and over the phone. Your cases can???t wait and neither should you. To start receiving the finest in court reporting, call now or visit our website.