Rogersville Court Reporting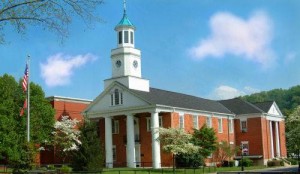 Rogersville, Tennessee is a small town located between Bristol and Knoxville and in close to proximity to many vacation sites, such as the Great Smoky Mountains, Cherokee Lake and Gatlinburg. It is also where the Hawkins County Courthouse, the oldest courthouse in the state is located. The courthouse still maintains the original architecture that was designed by John Dameron in 1836.
The WattsBoyd court reporting agency, while not as old as the courthouse, is the most experienced court reporting agency in Tennessee. We have been in courtrooms throughout the Eastern Tennessee Region since 1988, providing our attorneys with first-rate court reporting services. We???ve achieved such long term success in the field through our expert pairing of state of the art court reporting technology and old-fashioned customer service values.
Our agency assists with litigations, arbitrations, hearings, depositions and meetings. We offer a full scope of court reporting services, including word indexing, e-transcripts, condensed transcripts, real time reports, ASCII and videographers.
Since you can???t afford to lose time on a case, we can work for you on short notice, and expedite all of our services if needed. We email transcripts on the same day and offer the use of our many conference rooms to hold your private meetings. When time is of the utmost importance, we want to make sure you???re spared as much as possible.
Over the years, we have established many long term working relationships will all of our customers. In doing so, we???re able to provide them with the continuity of care that they need in order to do well in the court room. We tailor our services to meet your particular needs.
Ease of access is essential, so we allow twenty four hour scheduling online or over the phone. If you???re looking for the best, contact us now!