Clinton Court Reporting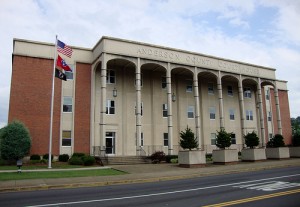 The Anderson County Courthouse, located in Clinton, Tennessee began as a small log structure in 1805 and has been rebuilt in the same location several times over the years until it evolved to the current structure, constructed in 1960. The courthouse is located on North Main Street in Clinton???s Historic Shopping District.
As the courthouse evolved, so did court reporting. Many advancements have been made in court reporting technology and the experts of the WattsBoyd agency have kept up with these advances since 1988. We serve the lawyers of the Eastern Tennessee region with state of the art technology combined with good old fashioned customer service principles.
We are here for you through each step of the court reporting process. Support is provided for depositions, hearings, arbitrations, litigations and meetings. Our full range of services includes ASCII, word indexing, condensed transcripts, real time reports, videographers, conference room scheduling, and e-transcripts.
We believe that the gold viagra quality of service that you need and expect from your court reporting agency is the quality you should receive. Our agency is committed to providing our clients with continuity of care and services tailored to meet each customer???s specific needs. To achieve this, we are dedicated to forming long term working relationships with all of our lawyers.
Because we understand that everything lawyers deal with is extremely time-sensitive, we respond to your requests on short notice. Your transcripts are provided via email on the same day, while the official ones are processing, and if needed, we can expedite all of our services.
To address your busy, unpredictable agenda, appointments can be scheduled twenty four hours a day either on the phone or through our website. To find out why lawyers in Eastern Tennessee think WattsBoyd is the absolute best court reporting agency available, contact us now.